We had a great evening last night at a local German style Ale House with over 20 other Geocachers! We spent several hours enjoying excellent company, great conversation and some fine food. The
event
was held to give a warm Maritime welcome to Geocachers Binrat and Geogranny, who were visiting from Eastern Ontario. The photo below certainly shows that our traditions held true to its roots:
Binrat and Geogranny were in town to visit their brother/son Ducky (also a Geocacher) and his family. They will spend the next week or so caching in the area with a trip to Canada's First Geocache in the plans.
The evening began with dinner of choice which included a variety of fare, the most popular being the German Schnitzel. This was followed by the awarding of quite a few door prizes donated by GPSCentral and The 3Geeks Outdoor Store. Throughout this there was a treasure trove of Travel Bugs available for discovering and exchange. There were a dozen conversations going on at once but good times and laughter was the common topic!
We had showed up early and we were quickly made aware that we had won the FTA, the First To Arrive award! Binrat greeted us with one hand out to shake our hands and the other with the award, the Tiny Dancer Travel Bug (Note to selves: next time show up fashionably late :)):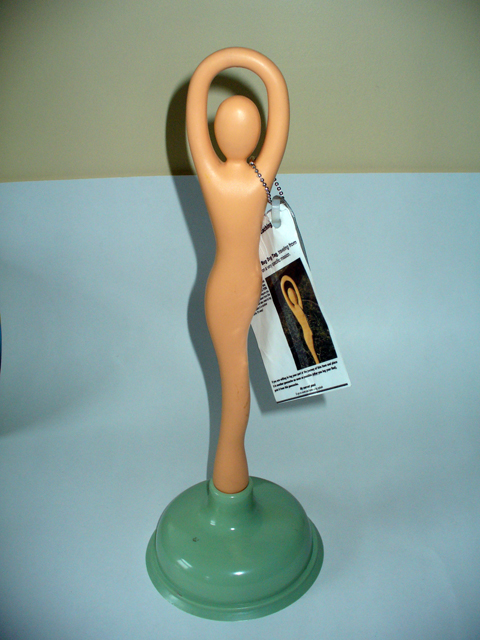 Tiny Dancer's mission is to "go to events and make a big splash". We thanked him immensely for bringing this all the way from GeoWoodstock for us. We were overwhelmed and so happy to have received it that no matter how hard we tried no else would, 'er, could take it from us. Though, as you can see here, Harley Sailor was pretty stuck on it: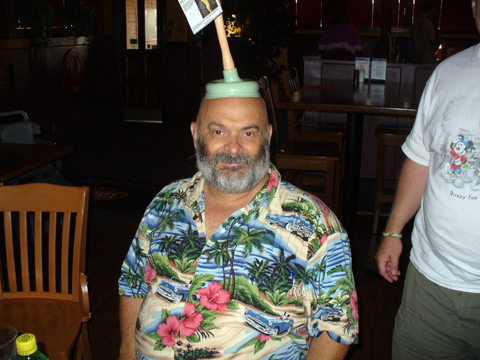 And stuck he was! Here's dragonflys trying to 'unstuck' him: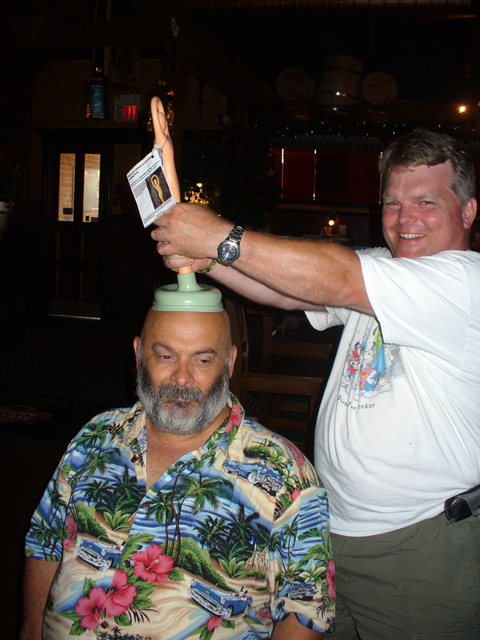 Until the next event where we can pass the 'torch' to someone else Tiny Dancer will reside in a prominent place in our home, where anyone asking, "What is it?", will be told about the great times we have with Geocaching!
The evening was not all fun and games though. No way! There was some serious eating going on. And we do mean some serious eating: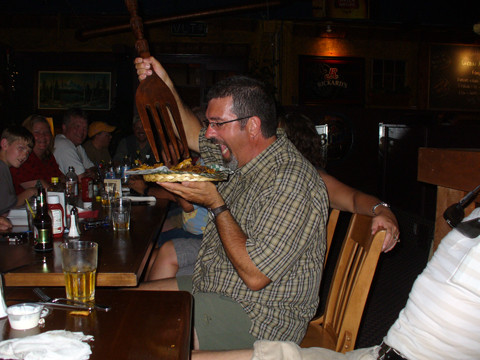 The giant fork was the Second To Arrive award, another Travel Bug. (Note to selves: next time show up really, really fashionably late!)
We had a great time last night which was shared by all and we look forward to more evenings like it. Thanks to the ACGA and a special thanks to the Chebucto Adventure and Dining Society who really out did them(him)selves! 😉
We wish Binrat and Geogranny a great vacation (and trust that you had a good time!) and look forward to seeing you again! And don't forget, we owe you one, a tiny dancing one! 😉
Keep on cachin'!
This post was originally posted on our now defunct website, Geocaching Online