This month's meeting of the Nova Woodturners Guild was both an eye popper and very educational! The Show and Tell session offered a bevy of beautiful work from several members and Dave Wilkins took us on a review of spindle turning tools and techniques.
Dave's presentation gave us an excellent overview of the various tools available for spindle turning including chucking systems. He combined this with instruction on their use and maintenance.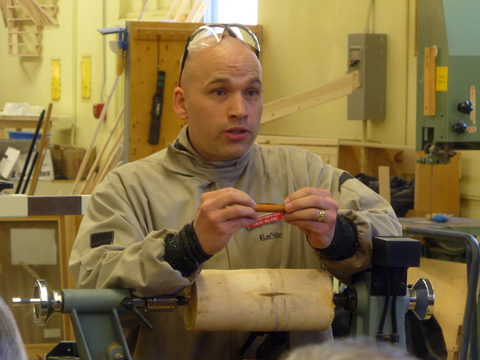 Whereas Dave's previous spindle turning demo focused mainly on the skew and spindle gouge tonight's demonstration touched on these tools but also introduced the traditional forged 'Continental' gouge, explained the various sharpening angles and profiles of the these tools, showed the difference in the 'spring' created with the them, compared the pros and cons of both the Nova Live Center and the Oneway Live Center and turned a captured ring using only the skew.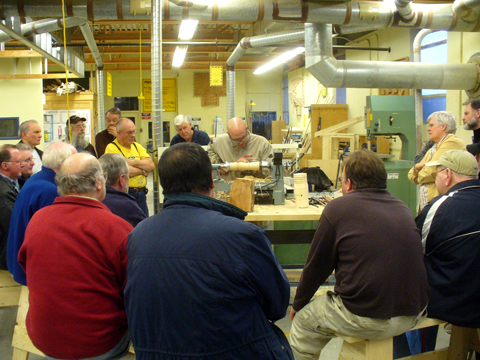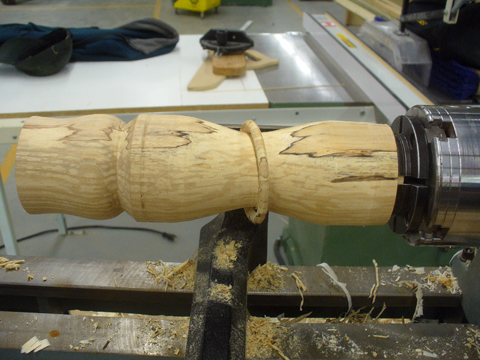 This was a great demonstration with a lot of information given through both the presentation and with the answers to the many questions that were asked. I'm sure that all the members walked away with a tip or two, or at least with the challenge of turning captured rings with only the skew! 🙂
Tonight's Show and Tell offered several different finishing techniques and projects. Stuart Taylor brought in several bowls that were finished in various colors and shared his technique for these finishes. Just look at these beauties!: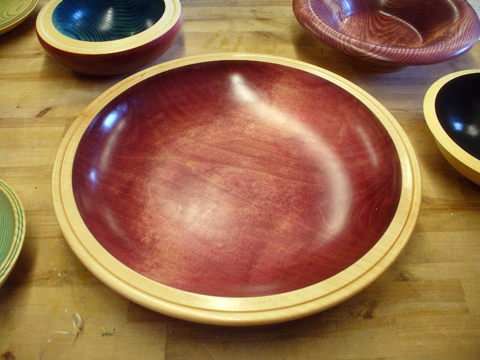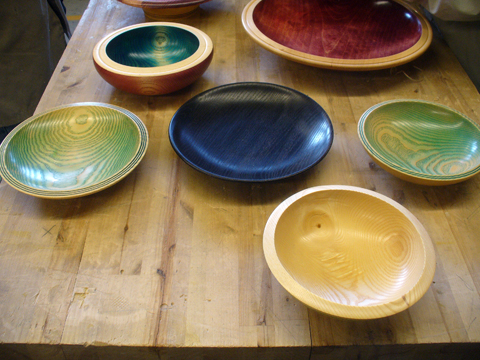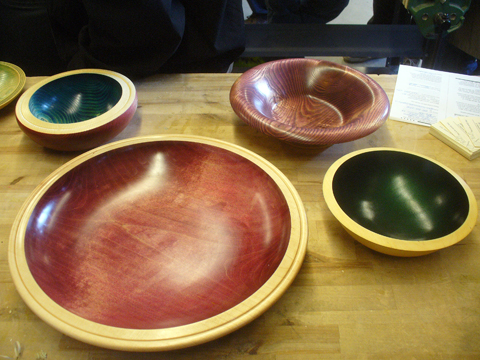 Dr. Watson brought in a set of nesting Maple bowls and a laminated vase: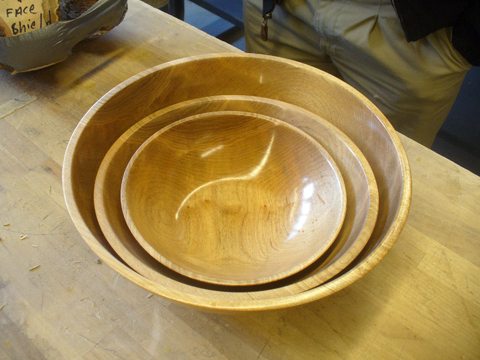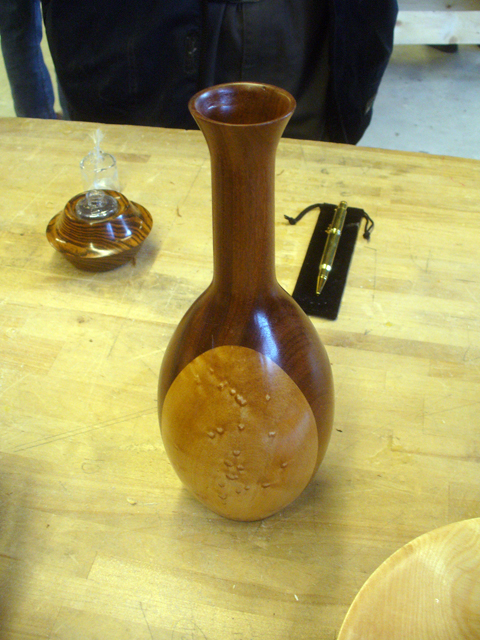 Dave Wilkins brought in a small African Blackwood bottomless bowl and a hollow vessel made of Elm: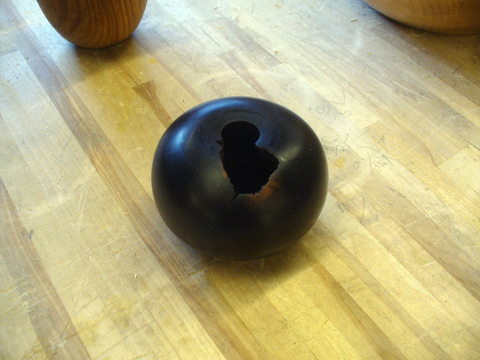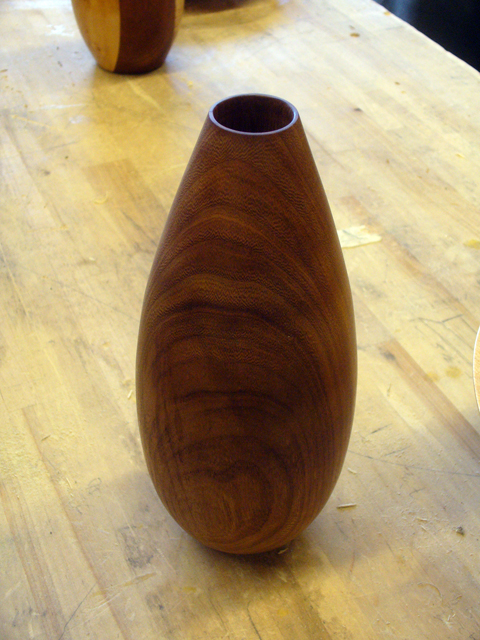 Ian Scott brought in a large Elm platter and 3 small oil lamps made from various exotic woods: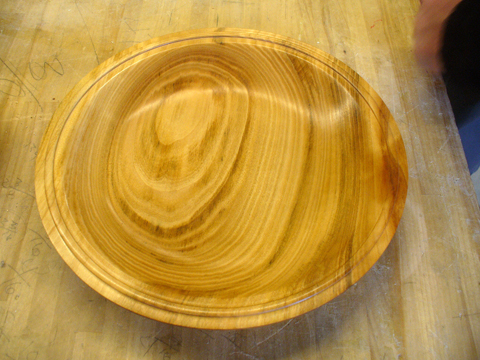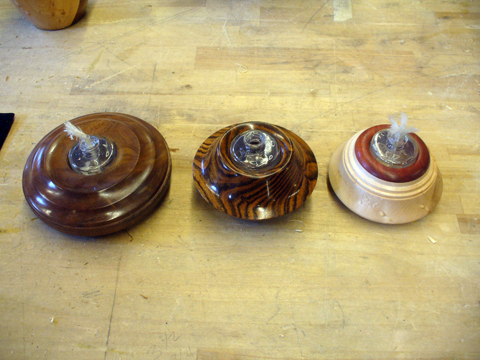 Jean-Luc DeClerck brought in a couple of very, very thin footless bowls made out of Maple: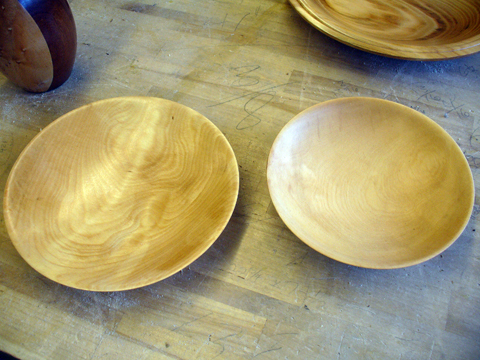 And Mel Delaney brought in a pen made out of bullet casings: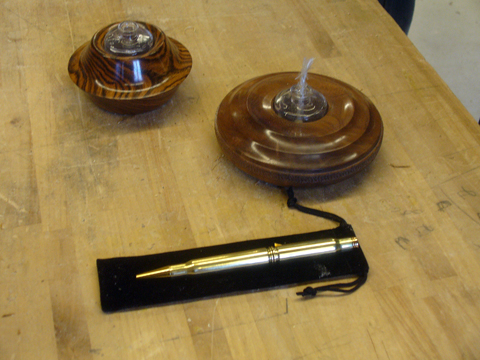 There was also a 'warning' piece brought in by Dan Graham as a 'gentle' safety reminder. It reminded me a lot of my own similar experience. A picture says a thousand words: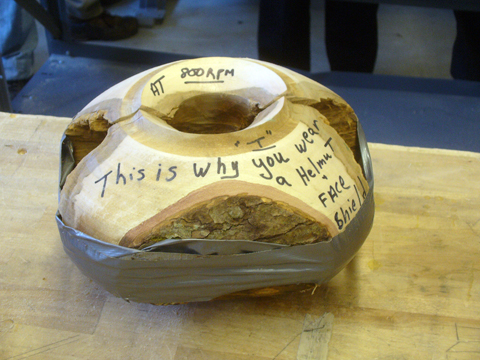 There were 39 members in attendance including 3 new members. Here are a few of them getting ready for Show and Tell: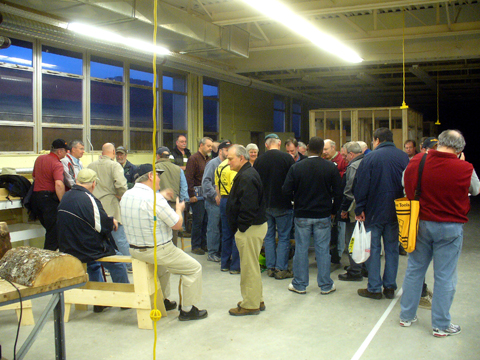 As always, this was another fantastic meeting and once again it was not long enough! 🙂 Thanks to everyone for making it a success and special thanks to Dave for the great presentation.
You can find more articles related to The Nova Woodturners Guild here.
Back to the shop…