This month's meeting of the Atlantic Woodworkers Association featured an informative session with Lee Valley's Assistant Manager, Kevin Hurst, who spoke to us about hinges, all kinds of hinges.
Kevin, who used to be a professional cabinet maker before working with LV, focused his presentation on the most common questions regarding hinges that they are asked at Lee Valley. Since most of the questions they receive are about kitchen cabinet hinges his talk centered around these types of hinges.
He spoke on decorative butt hinges, European style hinges, lift-off hinges, overlay hinges and more. He also spoke on table hinges, pivot hinges, screen hinges, barrel hinges, SOSS hinges and strap hinges. Each of the hinges that he explained were attached to a cabinet sample which made it very easy to see how they would look in a real application. This also helped in understanding how the hinge worked, in particular the SOSS, table and screen hinges.
Kevin's presentation made it quite obvious that choosing your hinges should be done as part of the design process and not as an afterthought. Choosing your hinges first can determine door styles which in turn will change the finished product. This would include choosing either inside, outside or face hinges.
He suggested that you choose your hinges before the rest of the cabinet hardware since there not as many choices available for hinges as there is hardware, in fact, only about 10%. This way you find that it is much easier in finding a match.
He also mentioned that with normal wear hinges can last virtually forever. The most common problem that hinges have is when they are not used for simply opening and closing a door. A great example of this is when a bottom cabinet door is used to lean on and/or as leverage when reaching into the cabinet.
This was a great presentation, bringing to light an area of cabinet making that as woodworkers we often overlook or leave until the last. It was great to see the different styles of hinges available and how they can be used to further compliment our work. Thanks for sharing this with us, Kevin!
Kevin's presentation was followed by a short Show and Tell with member Glenn McCarron bringing in his cutting board that he built at a 'cutting board workshop' with 4 other members held at member Gene Nurse's shop over the previous weekend. It's a great looking board!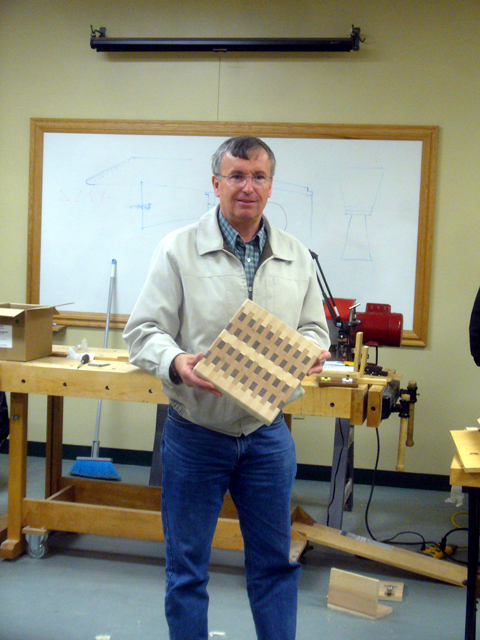 Business items included more information on the Veteran's Hospital project and the possibility of a project working with high school students. There were also a few items for sale that included a Ryobi scroll saw, Ryobi sander, Delta floor model drill press and a Porter-Cable drill and hole cutter combo.
This was another fantastic meeting. Thanks to Kevin Hurst for great presentation and to Lee Valley for taking us in tonight. 😉
There were 24 members in attendance including two new members.
Back to the shop…